I originally did a quick recap of Macau here.  Now it is time for me to finally begin posting more details.
When I left Hong Kong for Macau, my wish was to be in my Macau hotel room by 7:00, and in bed by 9:00, to gear up for a huge full day tomorrow.
To get from Hong Kong to Macau, you can take a ferry or a turbo jet.  This was all very easy to figure out. You buy a ticket and then you get your seat assigned by a sticker at the gate.  That $172 price = $22.19 in USD.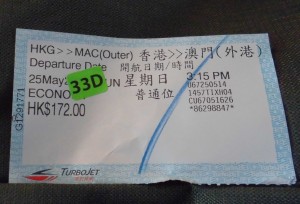 I wish I had gotten a window, but I wasn't lucky enough.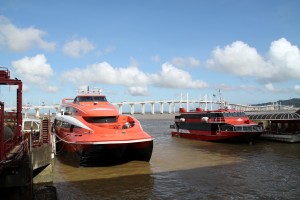 Arrival in Macau was a breeze, except there was no breeze, just burn and hot.
When you exit the ferry terminal, you walk through what Macau calls a "subway station." There are no subways in Macau, it is just an underground walkway to the other side of the road.
Over there are the free shuttles to every hotel.
My hotel was the Grand Lisboa. I picked it because it is so beautiful and neony. This place is a huge clusterfuck. You also have to carry your bag up some steps where you are then greeted by a bellman to help you. Where were you a few stairs ago?
I ask for a smoking room (do not even say it) and this gets me an upgrade. Score!
I get to my room and instantly love it. It takes me a while if loving it before I think to look outside. Oh man, what a view!  I was so excited!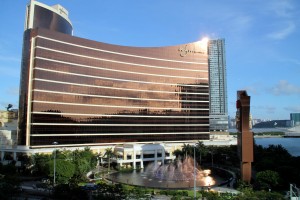 The fountains are a fraction of the size of Bellagio, but Wynn as a whole is also pint sized compared to its Las Vegas counterpart.
Hotel Lisboa really overdoes it with the toiletries.  Look at all this!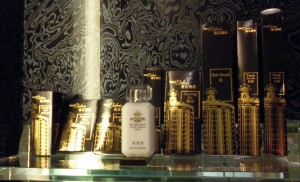 Don't forget the slippers, robe or sewing kit!  Or the umbrella.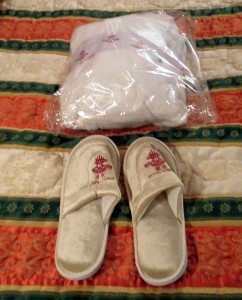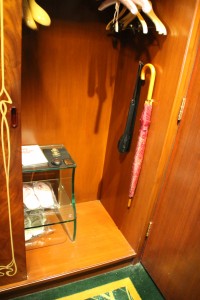 The room was really cool.  It had a Jacuzzi and this awesome old school radio thing that actually contained the light switches for the entire room.
Also, the minibar was free!  Not too much of a selection but it was replaced daily.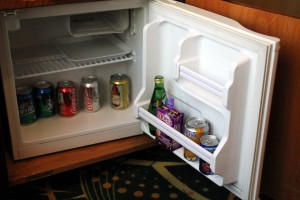 If you are concerned with germs in a public pool, no fear here.  You are required to shower first: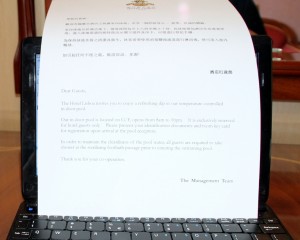 In addition to Wynn being right outside, I also had a view of Taipa Bridge: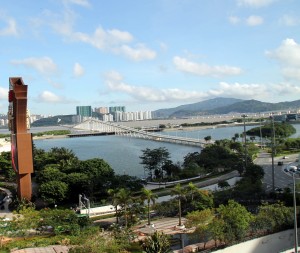 I tried to play a bit in Lisboa's casino but it was really confusing. I felt like I was going to get in trouble the entire time I was in there. I never found anything I wanted to play and then I did end up getting escorted out by security for accidentally wandering into an employee room.  Oops?
I take a shower and go out with my camera.  It cannot fit all of Lisboa into a frame because it is a mammoth. I tried walking all around to get different angles, nothing.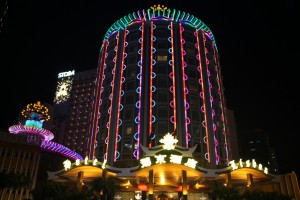 I get frustrated and hot and gross so I give up and go over to Wynn, using the "subway" to cross underneath the street.
Macau Tower lurking in the background: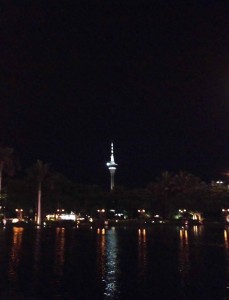 Wynn has a fountain show. It is weird because it is basically on ground level, like you could sit on the edge of the lake if you chose to.
The Wynn Macau interior looks exactly like Wynn Las Vegas, just on a way smaller scale.
I decide to play in Wynn.  Like Lisboa's casino, I felt like I was going to get in trouble.  The casinos here are really quiet and the employees hawk you as you walk around.  I settled in on some machine and put in $200 HKD, which is about $25 USD.  For some reason, the machines take HKD instead of Macau's own Patacas.
I sat there and watched my credits rise higher and higher as I played.  I was sure I was up high, but I was scared I was doing the math wrong because I have never been this lucky on a slot machine before.  Once one of the scarily serious employees came over to ask me if she could get me anything, I felt like maybe I was doing the math right and I was a winner.  So I cashed out and looked at my currency chart.  Whoa.  This is $900 USD!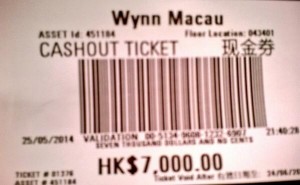 I have never hit that on a slot machine before.  I am in shock.  This also means that I don't have to go to the ATM for a very long time into my trip.   HAPPY HAPPY HAPPY!
By now I am completely exhausted from my long day and I decide to use that as an excuse to get out NOW with my winnings and go to bed.