Once upon a time, I was in Chengdu, China.   I was going to visit the Grand Leshan Buddha.   I get on the bus and it is hot and smells like a homeless person.  Shortly after, it begins.  I hear some girl talking loudly on a cell phone.  "There are no backpackers on here, only Chinese people and they all smell bad."  I shrink down in my seat a bit.  It is one thing to not wish for human companionship ever, it is another to hide from someone who is rude enough to have said this aloud.  Don't assume that no one on the bus can understand you.  I'm betting a bunch of them could.
We get to the town of Leshan and I make the mistake of not immediately running off the bus.  I get caught.  "Hi!  Do you want to share a cab?"  No thank you, I am taking the bus. "I will take it with you!"  Argh, fine.  We walk to the bus and she is joyously telling me how happy she is to have found me.  Me?  I don't want to be found.
There is a thing about meeting people while traveling.  That thing is that I don't want to.  Let me make this clear: I know I am the odd one here.  People who want to meet other people?  They are normal.   YOU are normal.  You should be glad I don't want to spend time with people.  Who wants to spend time with a weirdo?  Go on, run off and be free!
Whenever I do meet someone, the internal dialogue starts.
Me: Ughhhhhhhhh
Me: Would it kill you to just be nice to this person?
Me: No, but I just don't want to talk to anyone
Me: But would it kill you to just be nice to this person?
Me: But a huge part of this trip was to escape the real world and BE ALONE
Me: BUT WOULD IT KILL YOU TO BE NICE TO THIS PERSON?
Me: I DON'T WANNNNNNNAAAAAAAAAAAAA
If this conversation took place with a participant other than myself, I would undoubtedly be told I am rude, conceited, think I am better than everyone, I am a bitch and so on.  I know this because I have been called all these things by people that I did not know, who somehow felt I was obligated to accept their offers of companionship.
Do I think I am better than anyone?  Of course not.  Why does it always have to be me thinking I am better than anyone?  Why is this always the label I receive for wanting to be alone?
Has it ever occurred to you, imaginary social person that I am having a conversation with, that maybe I prefer to be alone because I enjoy the evenness of solitude?   No ups, no downs, just simplicity.  I like being alone.  Maybe I don't want to talk.  Maybe I don't want to sit here and answer questions about "what do you do for a living?", when I don't like my job and the last thing I want to do is talk about it when I am 7000 miles away from it?
Maybe I don't want to explain my entire life story to a stranger, in order for you to understand why I prefer solitude.
Q: Well if you weren't so full of yourself, you might enjoy other people's company.
A: Let me ask YOU imaginary person I am having a conversation with:  Do YOU think YOU are so much better than everyone that there must be something wrong with me if I don't want to hang out with you?  Are YOU so full of  YOURSELF that it never occurred to you that maybe my thoughts at this exact moment are more important to me than answering questions about how many countries I have been to?  See?  It works both ways.
So anyway, back to my story.
Here I am in China.  With a person who is super excited to see another Westerner.   The internal dialogue is flowing like a mother fucker.  No it will not kill me to spend a few hours with this person.  Even though it is not going to be a few hours.  It is going to be however many hours we are at Leshan, then waiting for the bus back, then two and a half hours on the bus back ACK.  No, this will still not kill me.  But I came to China alone, to be alone.  This trip is a huge deal for me.  I daydreamed about it for months.  I counted down the days.  I am finally here.  Now my daydreams are being infiltrated by the "get to know  you" questions that I just don't want to answer right now.
We get on the local bus.  I don't know where exactly we are going, I assume we will see the Buddha – this thing is ginormous.  It seems like we are on there for a long time.   The entire time, she is asking me about where we are getting off.  I don't know.  She is now mentioning that it was stupid to take the bus if I didn't know where to get off, and we should have taken a cab.  No, YOU should have taken a cab.
We see something that looks like SOMETHING so we get off the bus.  However, once we are off the bus, we are clearly not where we are supposed to be. We ascertain from some people who can speak very little English (which is a billion times more Mandarin than I can speak) which way to walk.  We begin.  My buddy now starts talking about how Chinese men are really ugly. Aloud this is happening.  In China.  I am crawling inside my skin.
We have to cross over a bridge and this is when my buddy starts getting visibly annoyed with me.  I am in China.  I am very excited to be here, I want to take pictures of everything.  So I cross the bridge to the other side and take a picture.   My buddy has had enough of my picture taking and is encouraging me "come on, let's go!"   I am not here with you.  I am not here with anyone.  I can do whatever I want.
So we get to the beginning of the Buddha site.  My buddy wants to hire a guide.  I do not want to hire a guide.  If I were going to ever hire a guide, it would be like a city guide, not an attraction guide. It is this ridiculously huge Buddha, what do you need a guide for?  But if YOU want a guide, you should totally get one.  You are in China!  Do whatever you want!  I try to sound enthusiastic and encouraging.
But me not wanting a guide = she does not get a guide.
We stop at the bathroom and this is the soap container: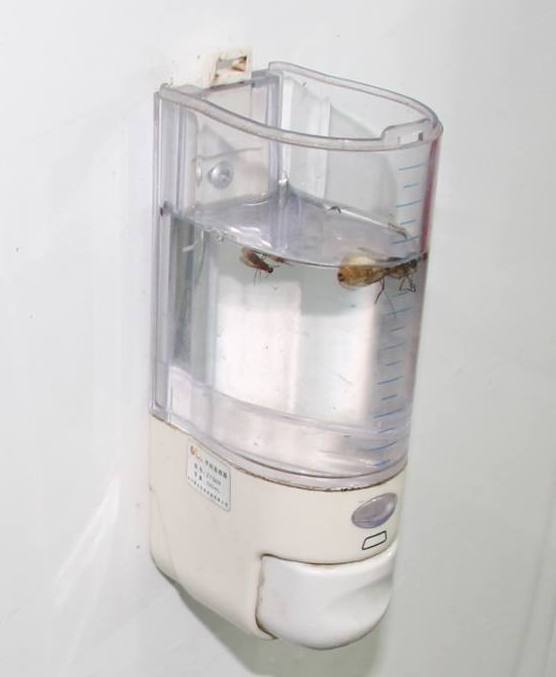 Next we begin the super long walk to the Buddha. We would not be taking this long walk if we had stayed on the bus.  The bus does go straight to the Buddha entrance.  This is my fault because I didn't know where to get off so we got off too early.  I don't care all that much.  Part of being solo in China is getting lost.  My buddy however, she cares.  She is mad, we should have taken a cab.   No YOU should have taken a cab.  I don't even know you.
She is growing more and more annoyed with me.  This walk is so long, should have stayed on the bus, should have taken a cab.  I stop for too many photos, "What are you going to do with all these photos anyway?!?"   Post them on my blog of course!  Which I do not tell her about because I already know I am going to be writing negatively about her on it.
And of course, if this woman has a blog, she would be writing just as negatively about me.  But the difference here is that I am aware we are not compatible and I want her to GO AWAY.  She is aware (?) we are not compatible and she feels we should compromise to get along.
I keep politely letting her know "You can go off ahead of me, I don't mind.  I know I take a long time and I don't want to hold you up."  And she does not go.  Yet she keeps getting more annoyed with how slow I am going.   In the interest of honesty, I was moving even slower than I normally would have been, in hopes that she would go on without me.
Finally we get to the entrance.   Finally.   Instead of going to the entrance though, I walk to the side of the park outside to take pictures.  At this point my buddy has had it with me and goes in without me.  Finally she is free, finally I am free.  In reality we both should have always been free.  Even if only one of us wanted to be free.
If you  have read this entire thing, I will reward you with a pretty picture of the Grand Leshan Buddha.