So I love Las Vegas.  I have been there 238947382 times and the amount of pages worth of trip reports I have for my many trips, is eleventy billion times that number.
Today, we shall be revisiting a single day back in December of 2008:
Monday, December 29, 2008 – Day Eighteen of Twenty One
Today is laundry day.  I don't really need to do laundry anymore this trip but I need to be at a machine where I put in money and take SOMETHING out of it.
Today is also moving day.  I'm leaving Fitzgeralds and checking into Sahara.
Once packed, I called the bell desk to have my bags picked up and stored. I then pulled a Ross-from-Friends and stayed in my room until checkout. This was a mistake because my channel flipping got me the Maury Povich show. Today's theme is "Pregnant at 13 – Who is the Father".  It seems a whole lotta under aged chicks boffed a whole lotta dudes and don't know WHICH predator the father is. As if this isn't disturbing enough, there was never a mention of statutory rape, nor were there any police officers there to bum rush the stage to handcuff anyone who was proven to have committed statutory rape once the paternity results were in.
That's enough, I am out of here.
It's beautiful outside. I take the Deuce bus to the Circus Circus KOA blasting Sinking Ships on my head phones. I love bands, I love shants weather, I love Vegas, I love vacation, and I love freeeeeeee. I'm practically skipping as I walk. After I finish my laundry, I check into the Sahara.  Dump out the newly clean clothes from my backpack onto the bed and vanish instantly from the room.
Note the bed – that's not an optical illusion. The bottom really is waaaaay higher than the top. This bed has got back.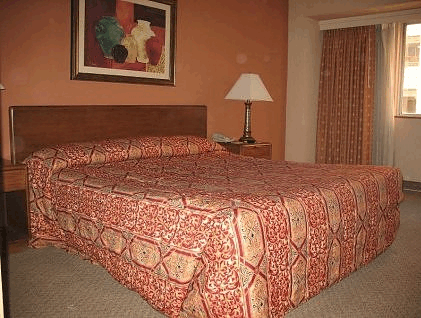 Later on, I get back on the Deuce. One of the things I want to do this trip is take a picture of the Chrysler Building at New York New York because it's lit up in green and red for Christmas. My purpose of this venture is specifically to do this. I'm broke and I don't want to dig into tomorrow's budget so this seems like a really good idea, like I'm kinda sight seeing, right??
I'm on the bus. The strip is packed and I could walk faster than this. I understand traffic but I do not understand WHY WHY WHY another Deuce PASSES us on the right. Why aren't we in the right lane? I vow to get off at the next stop, which is the Mirage, and walk. We don't stop at the Mirage. Some dude flips out and asks the bus driver why. The bus driver informs him that there was a bus stalled at the bus stop. Then I guess maybe he mumbled something because the guy goes lurching at him and FREAKS OUT on the bus driver. "What did you say?" The bus driver says "nothing" and the guy says "I thought so."
Oh but it didn't end there.
All of a sudden you can just SEE this "man's" inner frat-bro-dude surface and he yells "THAT'S RIGHT OLD MAN" at the bus driver.  This maniac's poor wife calls him over.  You can see him physically struggling with wanting to fight the bus driver. I am trying not to stare but I can't stop. I gather that being watched by  me and the other couple this lunatic had been talking to before he FLIPPED OUT, made him feel like he HAD to do something because he had an audience. So he would get all huffy puffy and start to walk back to the bus driver and then stop himself and then he would get all angry again and turn and face the bus driver and then turn back and face us. It was so uncomfortable. Even the poor homeless crack head on the bus stopped talking to himself long enough to stare at this human blood vessel that is about to burst. Meanwhile, all of this is taking place in the space of ONE bus stop. The strip is at a stand still. It's been at least 20 minutes since the last time we stopped. My inner Brooklyn is boiling hotter than this man's temper and its taking every single ounce of willpower I have to stop me from screaming "FUCKING LET ME FUCKING OFF THIS FUCKING BUS FUCKING ALREADY"
Finally we reach Caesars and I can not get off fast enough. The inner-frat-bro-dude dude takes one last jab at the bus driver, yelling something to him about having to walk back five miles. I hope for his wife's sake that he burns off some anger during this walk, before she is trapped in a hotel room alone with him. Jesus.
Now that I'm FINALLY FREE, I walk the rest of the way down to New York New York to take this stupid picture.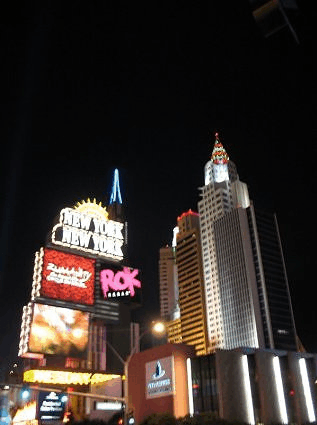 I get back on the Deuce (I know, it's like I am begging for it) to get back to the Sahara.  It's pretty empty but does feature one dude on a walkie talkie. Of course it does.
Back to the Sahara. I go to my room and am sorting myself out. I get up to throw something out and I realize the garbage was not emptied out after the last guest. I bend down and at the top is an empty package for…are you ready? A rubber ball gag. That's right. A rubber ball gag. Empty package. For a rubber ball gag. In my room that I am sleeping in. I don't dig deeper to see if the actual ball gag is in there under the packaging. I am speechless, which I guess is good since I'm alone and have no one to talk to except for my cute little stuffed dog and he sure as hell wouldn't know how to handle this situation. I take the pail and bring it to the door and throw it in the hallway. In retrospect, I should have taken a picture first.
Now let's be real here. No S&M party happened here last night. It was very likely some PAR-TAY BRAH bro-dudes who bought an S&M sex toy as a gag gift (no pun intended) and were screaming "VEGAS BABY" with lethally flammable breath into the poor cashier at the sex store's face. A real S&M couple would not have to stop on the strip to buy a gimmick rubber ball gag. They would have one packed. Not to mention, S&M isn't SEX, so likely no body fluids were exchanged. And even if they had been, this room isn't any more tainted than a room sans sex-toy that may have had a hooker in it the night before. Even so. I cant help but wonder what would happen if I go marching up to the front desk, with the package in my hand, waving it around and screaming out loud like that freaking LUNATIC from the bus, in front of every person checking in, about finding an sex toy in my room.  Just for fun. I toy with this idea (again, no pun intended) and then decide they might offer me a new and better room. But I'm already in my doggie pajamas. Half my stuff is sprawled out from my first trip to the room where I emptied by backpack on the bed. I don't want to pack and move. So I do the second best thing and call the front desk and try to make whoever answered the phone as uncomfortable as I can possibly make them.
Him: Hello front desk
Me: Hi – I'm calling…..
Him: (aggravated sigh) What room number please?
Me: Excuse me?
Him: What room are you calling from?
Me: 970
Him: How can I help you?
Me: Housekeeping did not empty my trash can from the last guest…..
Him: (cuts me off) I'll call Housekeeping
I can just about hear the click on the phone and I start yelling all panicked "THERE ARE FILTHY SEX TOY PACKAGES IN MY GARBAGE PAIL AND I FIND THIS ABSOLUTELY DISGUSTING".
Him: (silence)
Him: (silence)
Me: (wondering if he hung up)
Him: I'm sorry ma'am; I'll send someone up right away
Now I've totally lost it here. He threw me off by first not being pleasant before I identified my problem, then by almost hanging up on me when I got started with my problem – before I even got to mention the sex toy. Now he is sending someone up? I don't want anyone in my room. What if they send someone up and they verify that yes, there is a sex toy package in my garbage pail…and then decide to move me to a new room to make up for it? I don't want to move. Every article of clothing I own all over the place for crissakes. Stay OUT of my room.
Me: No, I don't want anyone in my room. (my voice starts getting higher pitched as I'm panicking.  I'm talking incredibly fast and I can feel my face getting hot – you would think this was really my rubber ball gag with the way I am panicking). It's in the hall. Its filthy and disgusting (OH GOD I ALREADY SAID THAT. THIS ISN'T FUN ANYMORE. HANG UP THE PHONE) and I want it OUT OF HERE.
Him: I'll call Housekeeping.
Then he slams the phone down on me.
I sit there stunned for a moment and then I hear the ice machine going off. Ack, the ice machine is next to my room. And I've thrown a rubber ball gag package out into the hallway in front of my room. I swear I can hear giggling. I get even more panicked that someone will see it and think its mine. You know this is a problem because people can see through doors now and recognize complete strangers. I very sloooooowly make my way to my room door and watch out the peephole. Faster than a slot machine can suck my money, a maintenance worker appears.  He bends down, picks up my pail, looks inside, rolls his eyes and walks away with it. This ordeal is now over and I'm just glad I had SOMETHING to write about my day or else that lone picture of the green and red Chrysler Building lights would have made my trip look really sad and pathetic.